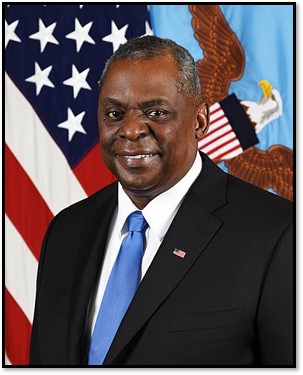 Before he was confirmed as Secretary of Defense, Lloyd Austin sketched out the Biden administration's priorities for future diplomacy with Iran after reentering the 2015 nuclear deal. "I would hope that as we enter into that agreement, we could have this discussion about when things sunset and also take a look at some broader things," he said during his confirmation hearing before the Senate Armed Services Committee. "One of those things is ballistic missiles." Iran has the largest and most diverse ballistic missile arsenal in the Middle East. Gen. Austin, the head of U.S. Central Command from 2013 to 2016, called Iran a "destabilizing element" that posed a "threat" to U.S. forces and partners in the region. Austin was confirmed by a vote of 93-2 on January 22, 2021.
Austin became the public face of the Biden administration's military response to rocket attacks by Iran-backed militias in late February and early March. He recommended airstrikes in Syria against facilities used by Kataib Hezbollah and Kataib Sayyid al Shuhada, two Iraqi Shiite militias trained, armed and funded by Iran. "We're confident in the target we went after," Austin told reporters after the operation. The following is rundown of what Austin has said on Iran while in office and before becoming Secretary of Defense. 
Remarks after taking office:
At the AIPAC Political Leadership Forum on Jan. 10, 2023: "Going back to my days at CENTCOM, I have consistently said that the greatest threat to Israeli security, and to the region, is the prospect of a nuclear-armed Iran.
"We fully understand the dangers of the Iranian government's destabilizing actions—including its support for terrorism, its dangerous proxies, and its threats to wipe Israel off the map.
"Unfortunately, Iran has repeatedly refused to engage in meaningful diplomacy on the nuclear front, and now they are taking actions across numerous fronts that make diplomacy even harder.
"We continue to believe that diplomacy is the best way to prevent Iran from getting a nuclear weapon.  
"But let me be clear. The United States will not allow Iran to acquire a nuclear weapon. And if Iran isn't willing to engage seriously, then we will look at all the options necessary to keep the United States secure. 
"Now, the Iranian government's recent outrages have only deepened our conviction and concern. The regime has killed, beaten, and jailed its own citizens for daring to speak out against its repressive rule. And we're deeply moved by the courage of the Iranian people in standing up for their basic rights. 
"But Iran is also stoking instability across the region—including its support for terrorists and militias, its proliferation of drones, its menacing cyber activities, its maritime aggression, and its continued threats against foreign officials. 
"So Iran's reckless actions don't just threaten Israel. They endanger the entire Middle East and beyond, including by supporting Russia's cruel targeting of civilians in Ukraine. 
"And increasingly, U.S. partners understand the importance of a regional approach to this kind of shared danger. So we're working closely with Israel, our partners in the Middle East, and our allies and partners to impose coordinated pressure on the Iranian regime.
"During this cruel winter, Russia has been using drones from Iran to kill Ukrainian citizens. In the process, Iran is gaining important battlefield experience and forging a strategic relationship with Russia.
"That's deeply, deeply troubling. It's a problem for American security, for Israeli security, and for global security. And it just underscores the importance of standing up for what's right."
At the Manama Dialogue on Nov. 20, 2021: "America's commitment to security in the Middle East is strong and sure. So we'll defend our interests in this region. And we'll continue to evaluate the right mix of forces to bolster our deterrence against Iran. We'll protect our forces from attack by Tehran or its proxies."
"The United States remains committed to preventing Iran from gaining a nuclear weapon. And we remain committed to a diplomatic outcome of the nuclear issue. But if Iran isn't willing to engage seriously, then we will look at all the options necessary to keep the United States secure.
"Now, next week, Iran's negotiating team is set to return to Vienna to restart talks on a mutual return to compliance with the Joint Comprehensive Plan of Action. We and our partners will return to those talks in good faith. 
"But Iran's actions in recent months have not been encouraging—especially because of the expansion of their nuclear program. As my friend and colleague Secretary of State Blinken has said, Iran's nuclear activities are bringing us closer to the point at which returning to the JCPOA won't recapture its benefits. But if Iran comes back with constructive positions, we still think we can quickly resolve our lingering differences to make a mutual return to the JCPOA possible.
"Yet Iran presents us all with serious security challenges that go beyond its nuclear program. Iran stokes tensions in this region and beyond, and that undermines peace and stability for us all. 
"Now, Iran's neighbors have tried to talk and improve relations. We fully support those efforts. And we urge Iran to do its part, and to take steps to reduce violence and conflict. But whatever Iran decides, we will continue to work closely with our partners. Iran should have no illusions that it can undermine our strong relationships in this region. And we will defend ourselves, and we will defend our friends, and we will defend our interests.
"That includes tackling the dangerous use of unmanned aircraft systems. Iran's proliferation of one-way, attack UAVs is a constant threat to American troops, and a hindrance in the fight against ISIS. And as we've seen in Iraq, and Saudi Arabia, and elsewhere, many of our partners face the same threat every day."
At a press briefing on Nov. 17, 2021: "Now, it's not lost on me that this trip comes at a time when Iran is stoking tensions and undermining stability in the region.
"We remain deeply committed to preventing Iran from gaining nuclear weapons. As I've said before, no problem in the Middle East gets easier to solve with a nuclear-armed Iran.
"That's why we fully support the President's efforts to achieve a new diplomatic agreement with Iran over its nuclear program.
"But, of course, Iran presents serious security challenges that extend beyond that program. 
"So I'm going to continue to be very clear: we will defend ourselves, our partners, and our interests against threats from Iran or its proxies." 
 
Interview with ABC on March 7:
Question: I want to move to Iraq. This week, we saw a second significant attack with those 10 rockets. Do you know who did it? And what kind of responses might we expect?
Austin: Well, we're still developing the intelligence. We're encouraging the Iraqis to move as fast as they can to investigate the incident. And they are doing that. But you can expect that we will always hold people accountable for their acts. We want to make sure that, again, we understand who's responsible for this. The message to those that would carry out such an attack is that: Expect us to do what's necessary to defend ourselves. We will strike, if that's what we think we need to do, at a time and place of our own choosing. We demand the right to protect our troops.
Question: Has Iran been given the message that this is not an escalation, when we retaliate?
Austin: I think Iran is fully capable of assessing the strike and our activities, and they will draw their own conclusions. But what they should draw from this, again, is that we're going to defend our troops, and our response will be thoughtful, it will be appropriate. We would hope that they would choose to do the right things.
Remarks on Feb. 25, 2021: "There's not much more that I'll be able to add at this point other than the fact that we're confident in the target we went after, we know what we hit. And we're confident that target was being used by the same Shia militia that conducted the strikes."
"We are very deliberative about our approach as you would expect us to be. We allowed and encouraged the Iraqis to investigate and develop intelligence, and that was very helpful to us in refining the target."
"It was my recommendation. We've said a number of times [that] we will respond on our timeline. And, once again we wanted to be sure of the connectivity and that we had the right targets."
Remarks from before taking office:
On reentering the 2015 nuclear deal
Senate confirmation hearing on January 19, 2021: "I would hope, and I think the president-elect has been clear, that the pre-conditions for us considering to reenter into that agreement would be that Iran meet the conditions outlined in the agreement. Back to where they should have been. I would hope that as we enter into that agreement, we could have this discussion about when things sunset and also take a look at some broader things that may or may not be a part of this treaty, but certainly things that I think need to be addressed. One of those things is ballistic missiles."
On Iran's regional behavior
Senate confirmation hearing on January 19, 2021: "Iran continues to be a destabilizing element in the region. If you look at its behavior, it is clearly [engaged in] a lot of activity that's destabilizing. It doesn't work well with its neighbors. It does present a threat to our partners in the region and those forces that we have stationed in the region. If Iran were ever to get a nuclear capability, most every problem that we deal with in the region would be tougher to deal with because of that." 
On Arab states normalization with Israel
Senate confirmation hearing on January 19, 2021: "Any time that countries agree to normalize relations, I think that's a good thing. I think certainly this has put a bit more pressure on Iran, and I hope they will have good effects. "