President Donald Trump's decision to withdraw the United States from the nuclear deal was the top story in Iranian newspapers on May 9. The faces of President Trump, President Hassan Rouhani and E.U. foreign policy chief Federica Mogherini were featured on most front pages. The following is roundup of how Iranian newspapers covered the historic decision. Translations of the headlines are adapted from those published by Iran Front Page.
Ebtekar:
Iran Nuclear Deal Minus U.S.
Iran Sets Conditions for Its Remaining in JCPOA after U.S. Withdrawal
Etemad:
Intruder Now Out of JCPOA
Iran President Calls JCPOA 'International Deal'
Bahar:
Rouhani: We Must Stand on Our Own Feet
Ghanoon:
JCPOA Without the Intruder
Heavy Costs of Withdrawal for US
Europeans Stand by Iran
Hamshahri:
The paper used a headline similar to that of the famous one used to describe the Shah's departure in 1979.
Europe did not support Trump's decision to exit from JCPOA and impose nuclear sanctions
JCPOA Remained, U.S. Left It
Rouhani: From Now on, JCPOA Is a Deal between Iran and 5 Countries
Shamkhani: World Not to Go Back to Pre-JCPOA Era

Aftab-e Yazd
Tehran's Logical Decision
Iran to Remain in JCPOA If Its Conditions Are Met: Rouhani
Head of Government: The People Have no Anxieties for Future of Country
Kayhan:
After Swallowing All Concessions, Trump Tears Apart JCPOA
It's Now Our Turn to Burn It
Vatan-e Emrooz:
No Sequel
Rouhani after U.S. Withdrawal from JCPOA: We Gained Important, Historic Experience
Trump Officially Declares U.S. Withdrawal from JCPOA, Signs Executive Order for Return of Nuclear Sanctions Against Iran
Arman-e Emrooz:
Mogherini: We'll Remain in Iran Nuclear Deal
Europe to Support Positive Results of JCPOA
Afkar
[Secretary of the Supreme National Security Council Ali] Shamkhani: JCPOA Collapse Will Not Benefit the U.S.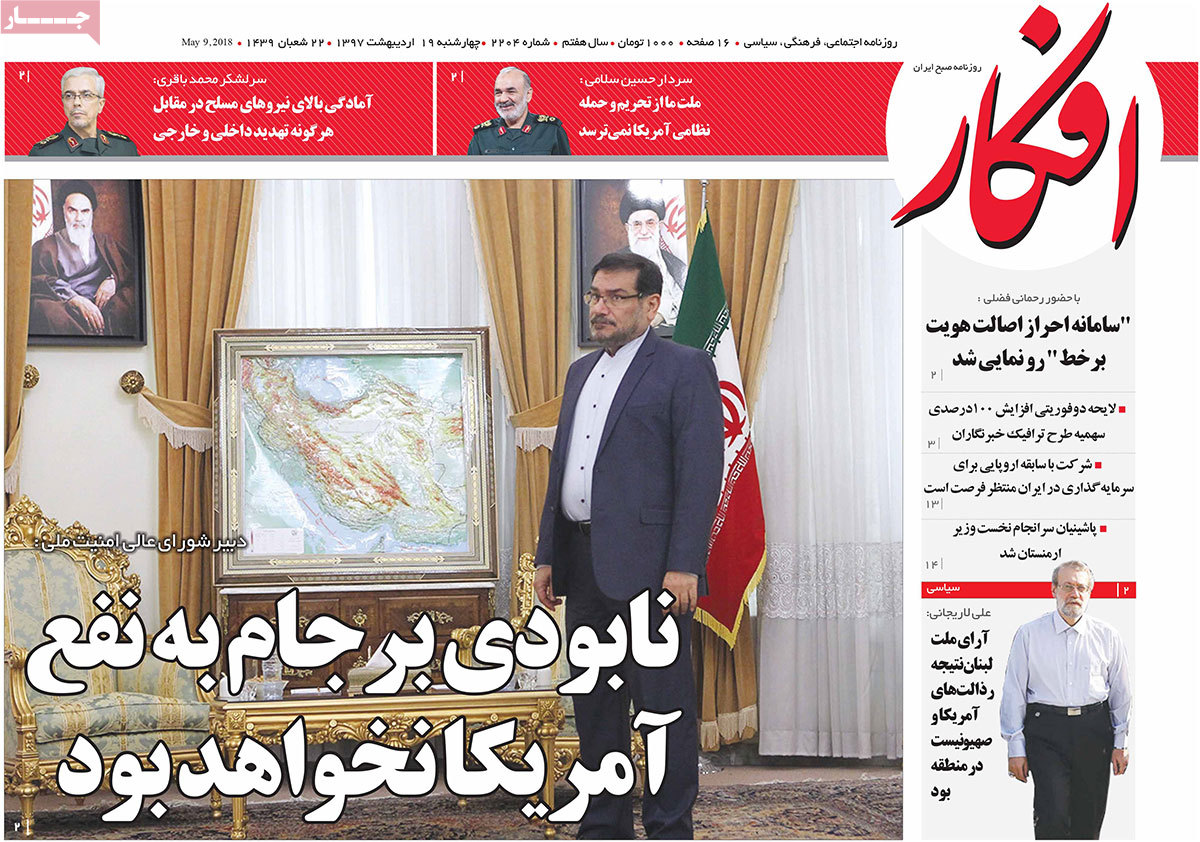 Click here for President Trump's remarks. 
Click here for the U.S. Treasury's statements on sanctions. 
Click here for Iran's response. 
Click here for world reactions. 
Click here for congressional remarks. 
Click here for Obama-era officials' reactions. 
Click here for analysis by foreign policy and non-proliferation experts. 
Click here for reactions from the Middle East.